I'm not going to lie to you, when I first started The Office (at my husband's request), I was not a fan. I didn't think it was funny. I was frustrated that the receptionist and the guy-that-needed-a-haircut weren't together even though they were clearly meant for each other. I thought the boss was cringeworthy awkward. And probably the biggest deterrent: I thought the style of filming was weird.
That has all changed and I am an Office lover and fanatic.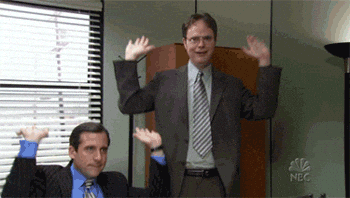 So for my husband's 27th birthday this year, I decorated our dining area "The Office" themed because he is a big fan too. Here's what I did:
The classic "IT IS YOUR BIRTHDAY." sign and sad flesh-colored-balloons-that-match-everything from Kelly's birthday party.
Some good Michael Scott quotes…it was very hard (that's what she said) to pick my favorites.
Great snacks from some memorable episodes.
Kelly's birthday cake with her name spelled wrong. The lady at Walmart couldn't understand why I wanted NOTHING on the cake. The conversation went like this:
Me: Hi. Can I have a chocolate cake with white icing and nothing on it?
Her: What do you mean "nothing on it"?
Me: Yeah…like I want the cake….but with nothing….on it…..
Her: ….
Me: ….
Her: I can put a character on it for free?
Me: No.
The classic face mugs from Kelly's party episode…so maybe Kelley is my favorite character?
I have been known to love Mindy Kaling too. I mean, I've read all of her books…
That's it. My love for The Office has grown and so has my husband's age. #ageisjustanumber